Link

Link

Link

Link

Link

Link

Link
The story of the Essex smack, Pioneer, is a long one and she is unique in being the very last of the larger size Essex smacks to survive, although only her bottom and parts of her other structure were salvaged as a basis for reconstruction. To give scale to the vessel, for her presents dimensions are 64ft registered length (about 71ft overall length) and about 15ft beam.

Originally she was somewhat shorter, but like many contemporaries she was lengthened and altered slightly in breath to suit changing fishery conditions some years after her launch. To understand the background Pioneer and her contemporaries, we must go back to the Essex fisheries in the mid-19th century, a time of great activity and development when every day existence at the small towns and villages on the Colne and Blackwater rivers, with their common estuary in North East Essex, depended on fishing, professional yachting, shipbuilding and other Maritime activities. There were then about 250 smacks under sail, working from the Colne alone, manned by about 1000 hands.

The Pioneer was built by Peter Harris at the Maritime Village of Rowhedge in the parish of East Donyland on the upper reaches of the river Colne. It has deep water by itsit's quays and was the home for many mariners and shipbuilders after the 1780s of large numbers of professional captains and hands for yachts of all sizes and types, many of whom found something of a winter living fishing in the 50 or so smacks owned there.
The Pioneer continued to sail from Brightlingsea and by 1919 Joseph Eagle one of an old local fishing family was managing owner. The trade slumps of the early 1920s bought further change of ownership and eventually she was laid up and became a houseboat at East Mersea, later being towed round to West Mersea on the nearby river Blackwater where she was moored on the mud. It was not until 1998 that she was rescued from the mud and brought back to sailing condition by Pioneer Sailing Trust.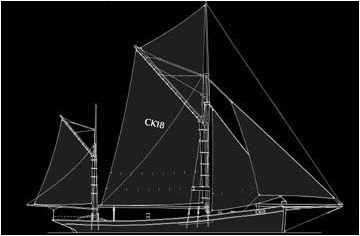 Built in 1864 by Peter Harris of Rowhedge.57ft overall length, cutter rigged and 23 tons gross weight. She worked out of Brightlingsea dredging deep sea oysters.
Official number 48991. Fishing number CK18.
She was lengthened by 11ft by Aldous of Brightlingsea. Having a wet well fitted making it possible to work further a field, due to the fact she could now keep her catch alive. Wet wells date back to the 1400's and 'The Pioneer' is thought to be the last remaining example of a UK sailing fishing vessel with a wet well. She was now 68 ft overall, 32 tons gross and ketch rigged.
Working to begin with dredging deep-sea oysters off the North Holland coast, and later dredging scallops down channel. She would also sail around the British Isles collecting brood stock for cultivating back on the Colne and Blackwater oyster layings.
She had a steam capstan fitted for hauling the dredges.Done by hand spike capstan up until then.
Her first engine was fitted. Built by the Atlantis Engine Co, Wishaw. Four cylinder, 6" bore 8"stroke and 35 hp. It was installed in the focsle with a shaft running back through the wet well and out the port quarter. Her tonnage was now reduced due to space taken up by the engine, boiler space and boatswains store to 17.28 tons.
Decommissioned and turned into a house boat at East Mersea.
She was blocking a land drain of some sort at East Mersea so was towed to the Strood Channel at West Mersea where she broke her moorings and sank.
.
Digging starts in November and late one December morning she comes ashore on Wyatts Hard at West Mersea.
She is transported to Great Totham by road to be restored.
17th May. Launched with great ceremony at Brightlingsea